Top
The chemical and textural service is equipped with two spectrometers dedicated to the determination of metals amount in solids or in solutions:
– a plasma optical emission spectrometer ( ICP-OES)
– and an energy dispersive X-ray fluorescence spectrometer (ED-XRF)
For textural characterization, the service is equipped with two volumetric devices specially adapted for studies of mesoporosity and microporosity of solids with chemisorption and vapor option.
Equipment
The service is part of the of the platform for Catalytic Materials Characterization for IRCELYON catalysis and also provides analytical support to the scientific community of Lyon
ICP-OES
ACTIVA de Horiba Jobin Yvon

 

Analytical technique
Technical specifications

Enables the analysis of approximately 70 elements in solution
Detection limit of 0.1mg / L for most elements.

CDD detector
2 Holographic grating spectral range 160-800 nm nitrogen purged for elements < 190 nm

Allows a semi-quantitative panoramic analysis by the exploitation of the complete emission spectrum.
Software WAV IMAGE.
ED-XRF
EPSILON 4 de Panalytical

Analytical technique
Technical Specifications

Determination from Na à l'U
No-destructive analysis

Tube with anode Ag 15W-3mA
Resolution (Mn Kα): 135 eV

semi-quantitative measurement

Determination of elements in oils

Logical Omnian.

Logical Oil traces.
Smart Vac Prep de Micromeritics

Analytical technique
Technical Specifications

Gas Adsorption Sample Preparation

Vacuum 1.10-3 mmHg

Temperature up to 450°C
ASAP 2020 de Micromeritics

Analytical technique
Technical Specifications

Study of the mesoporosity of solids (2 nm < Ø < 200 nm).
Equipped with 2 transducers (1000, 10 mmHg).

Distribution of mesoporous volumes and surface
Isotherm from 10‑2 P/Po
BET surface Area
t-Plot
BJH Adsorption and Desorption.

Gas available for physisorption measurements:  N2
3 Flex de Micromeritics

Analytical technique
Technical Specifications
Study of the mesoporosity and microporosity of solids (0.4 < Ø < 200 nm).
Equipped with 3 transducers (1000, 10 and 0.1 mmHg).

Distribution of mesoporous volumes and surfaces.
Isotherm from 10‑7 P/Po,
BET and Langmuir surface Area,
t-Plot
BJH Adsorption and Desorption'Horvath-Kawazoe,
Dubinin et MP Method,
DFT Pore Size and Surface Energy

Gas avalaible for physisorption measurements: nitrogen or krypton.
The chemisorption isotherms enable to determine the dispersion of the metallic phase of a catalytic solid at temperatures > -20 ° C
Gas available: H2, CO, O2
The water vapor adsorption isotherms allows studies of hydrophilic / hydrophobic properties of the surface of the catalysts.
Water vapor or other vapors
Results
Analysis of Si, Al and Na by Fluo-X and ICP-OES
Spectrum of Fluo-X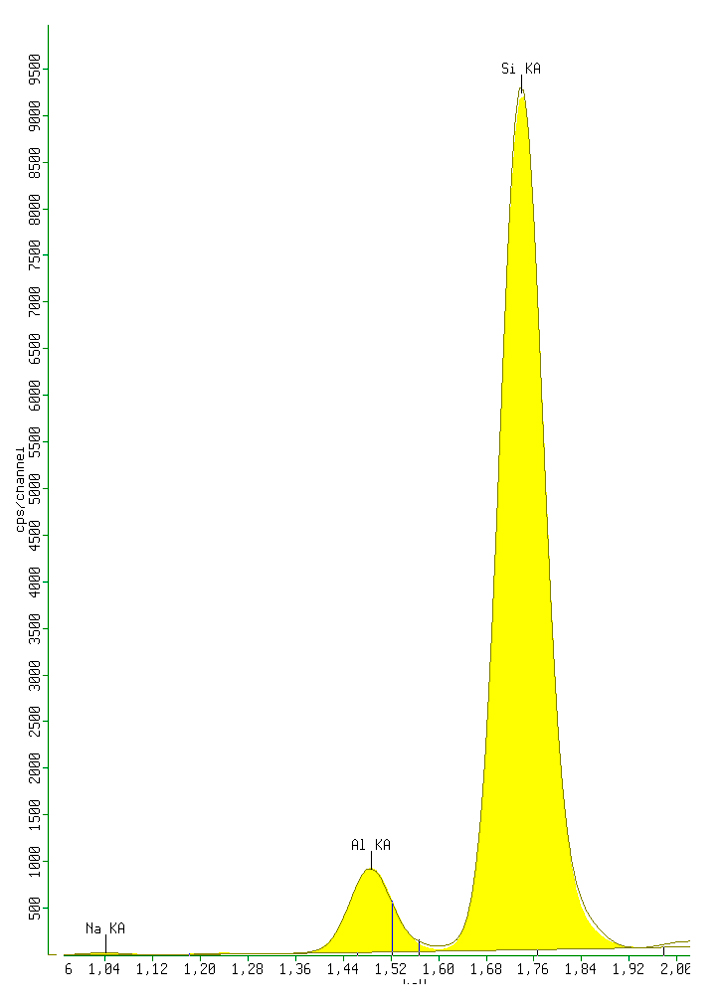 Report Si/Al in Fluo-X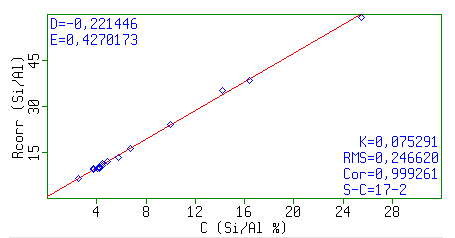 Comparison between Fluo-X and l'ICP-OES

Keywords
ICP-OES
ED-XRF
Chemisorption
Physisorption
Water vapor
Desorption
Surface Area
Porosity
Staff
Technical and administrative staff
Publications