2 ADRESSES :
IRCELYON, Institut de recherches sur la catalyse et l'environnement de Lyon, UMR5256
PRETTRE building
2 avenue Albert Einstein
69626 Villeurbanne cedex
CHEVREUL building
6 rue Victor Grignard
69100 Villeurbanne
Open from 8:30 a.m. to 12:30 p.m. and from 1:30 p.m. to 5 p.m. Monday to Thursday. Until 4 p.m. on Friday.
By public transit from the Part Dieu station: Tramway
Average time: 20′

Exit the train station by the Rhône door.
The tram station is along the cours Vivier Merle, in front of the Part-Dieu shopping center, take a right at the end of the esplanade.
Take the tram line T1 direction IUT Feyssine.
To access the Chevreul building go down to Gaston Berger station.
On the descent of the tram, take a right on avenue Gaston Berger on 200m.
Follow the buildings Lavoisier and Astrée. Take a left on rue Victor Grignard.
IRCELYON Chevreul building is on your left, ein front of CPE.
To access the Prettre building, go down to INSA station.
On the descent of the tram, take a right on avenue Albert Einstein on 500m.
IRCELYON Prettre building is on your right in the prolongation of regional delegation of CNRS.
From the airport by public transportation to train station Part-Dieu:
At Lyon-Saint-Exupery airport, take the train-shuttle "Rhone Express" to the terminus "Gare Part-Dieu". You will likely arrive at Terminal 2. It will take 5 min by walking to get to the platform.
The platform is located outside next to the TGV station – Tickets distributors are inside the TGV station, close to the exit doors. Price for a single trip 16,30 euros.
https://www.rhonexpress.fr/en/tickets-and-fares/37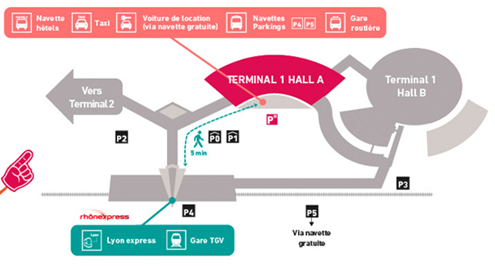 In car: see Mappy or ViaMichelin maps