YGGDRASIL Festival: Tomorrow, but better!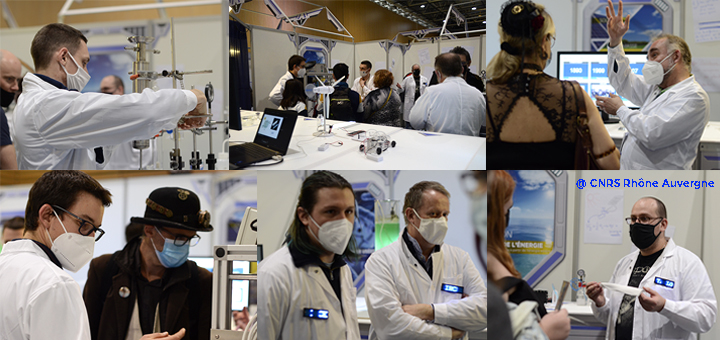 Our researchers and doctoral students participated in the YGGDRASIL festival, on February 12 and 13, 2022, with the aim of sharing knowledge, one of the main missions of the CNRS. It is also an opportunity to pass on their passion for science!
YGGDRASIL is a festival of fantasy, science fiction and science fiction. In a world of anxiety caused by environmental and societal problems, climate change and more recently the pandemic, the organizers turned to scientists to show the public that nothing is lost and that in laboratories, researchers are putting their time, their talent and their heart to change life.
Indeed, the primary mission of CNRS is to conduct "all research of interest to the advancement of science as well as to the economic, social and cultural progress of the country". Oriented towards the common good, this approach to research is multidisciplinary, focused on the long term and open to the unknown.
Thus participating in this event, a meeting between poets and scientists, where 20,000 to 30,000 visitors, from the youngest to the oldest, come to escape, is an opportunity to remember that knowledge is a great treasure and that science with awareness is a wealth of soul.
The subjects presented by our scientists concerned promising projects for the future such as renewable energies, the storage of energy from the sun by photocatalysis (projet H2TEX – IRCELYON/Brochier Technologies), the production of clean hydrogen, etc.
A curious public, researchers with contagious enthusiasm who ruthlessly consumed their energy, all the conditions were met for 2 days of meetings and exchanges that marked the spirits. Like this little boy turning the propeller of a miniature wind turbine that powered two LEDs, the lights flashed, but even more so the little boy's face lit up with a smile of wonder. During this time the dad was asking all the questions that came to mind on the stand to understand our research.
Participants of the lab at this event:
Eric Puzenat (researcher), Mathieu Prévot (researcher), Paul Hazemann (postdoctoral fellow-Brochier Technologies), Félix Taulou (phD student), Christophe Coudercy (phD student), Christophe Geantet (researcher), Dorothée Laurenti (researcher).