Gold in a fibrous and vitreous state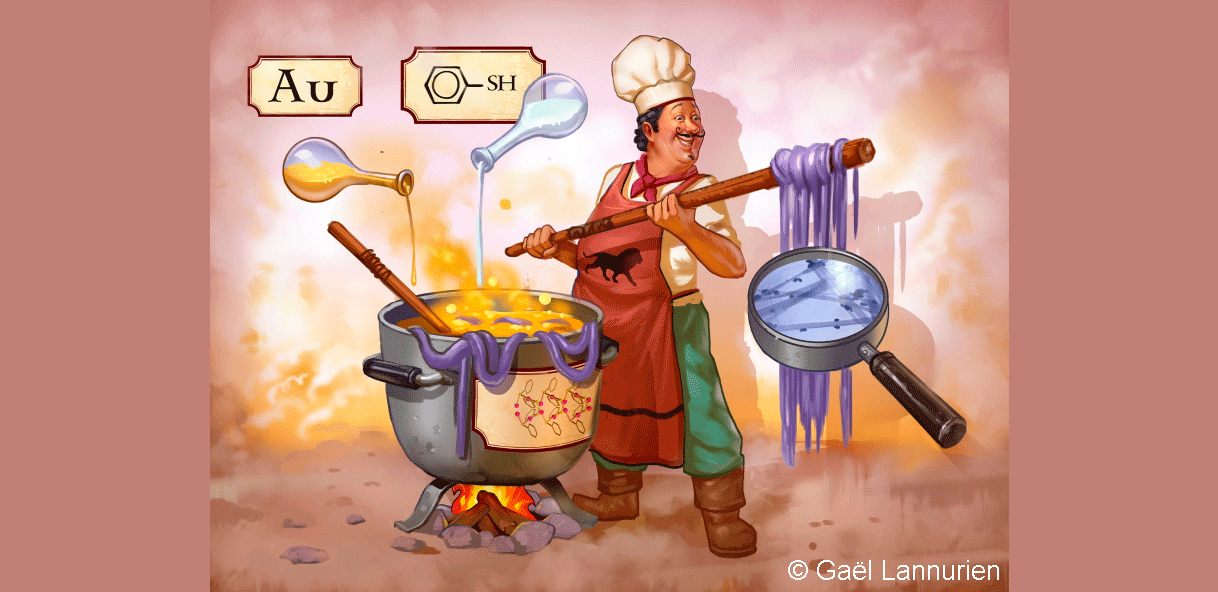 Researchers from IRCELYON, ILM, LMI in the University of Lyon, from Institut Néel in Grenoble, from ILV in Versailles and from Japanese teams of the University of Kyoto and Konan managed to transform gold into transparent glass and flexible fiber. These coordinating polymers of gold thiolates have strong chemical bonds between gold and sulfur and form one-dimensional chains. These materials also emit intense red light under UV irradiation. What pave the way for applications such as the display or detection of traces of pollutants in liquid media.
This work has been the subject of 2 publications:
1. S. Vaidya, O. Veselska, A. Zhadan, M. Fabre, G. Ledoux, A. Fateeva, T. Tsuruoka, A. Demessence*, J. Mater. Chem. C., 2020, 8, 8018. https://doi.org/10.1039/D0TC01706J. Flexible and luminescent fibers of a 1D Au(I)-thiophenolate coordination polymer and formation of gold nanoparticles-based composite materials for Surface Enhanced Raman Spectroscopy.
2. S. Vaidya, O. Veselska, A. Zhadan, C. Dujardin, G. Ledoux, F. Toche, R. Chiriac, A. Fateeva, M. Diaz-Lopez, Y. Joly, P. Bordet, N. Guillou, S. Horike, A. Demessence*. Chem. Sci., 2020, 11, 6815. https://doi.org/10.1039/D0SC02258F. Transparent and luminescent glasses of gold thiolate coordination polymers. Accepted to Chem. Sci.
Read the article on this subject from the Institut de Chimie du CNRS: https://inc.cnrs.fr/fr/cnrsinfo/de-lor-letat-fibreux-et-vitreux-0