Detecting Covid-19 by the expired air?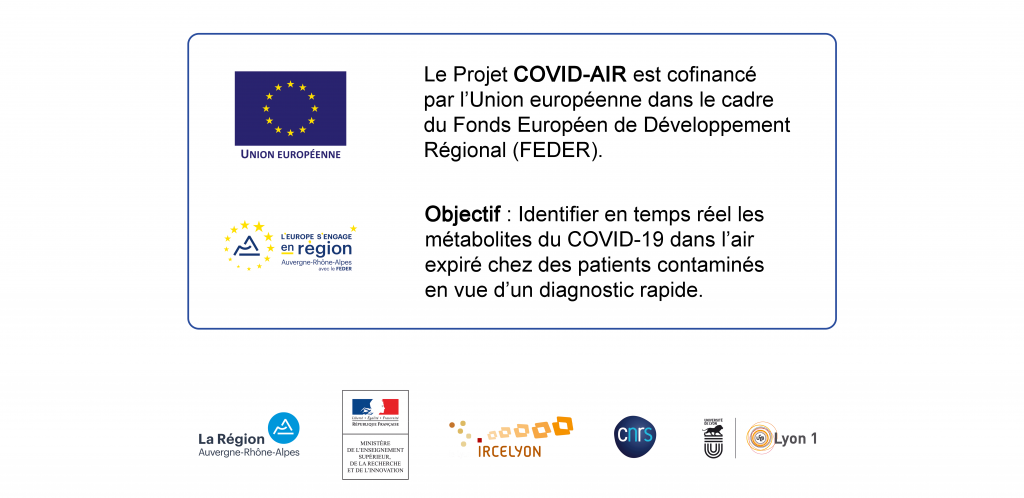 This idea from the CARE team resulted in collaboration with CIRI, ISA and doctors from the infectious disease and resuscitation departments of the Croix-Rousse hospital.
A simple diagnostic method for COVID-19 has therefore been tested since last June at the Croix-Rousse hospital in Lyon.
The tool used is a mass spectrometer Vocus PTR-TOF from Tofwerk whose sensitivity and resolution are unequaled in the world.
We are the first to have had access to this instrument thanks to the support of the Auvergne Rhône-Alpes region, European regional development funds (Feder) and the State.
09/2020: tested on 140 patients, this non-invasive test has proven to be reliable in identifying COVID-19 metabolites in real time in the exhaled air of patients. This opens up new perspectives in screening. It remains to find an industrial partnership to adapt the technique, in particular by miniaturizing it like a breathalyzer.
Since early March 2021: the spectrometer is being tested for a larger-scale study at the Palais des sports de Gerland.
April 29, 2021: visit of the test by Yannick Neuder, vice president of the Auvergne Rhône Alpes region, alongside the promoters and partners of this project initiated by Ircelyon.
The threshold of 1000 patients tested has been exceeded, with a reliability of 95% according to Christian George (CNRS research director, CARE team at IRCELYON).
By the end of May, around 4,500 volunteers should have breathed into the spectrometer and had a parallel nasopharyngeal swab. This in order to compare the results and assess the reliability of the device on a large scale.
2022 :