Nicolas GRIMALDOS OSORIO, 2022 Thesis Prize of the SCF inter-division Energy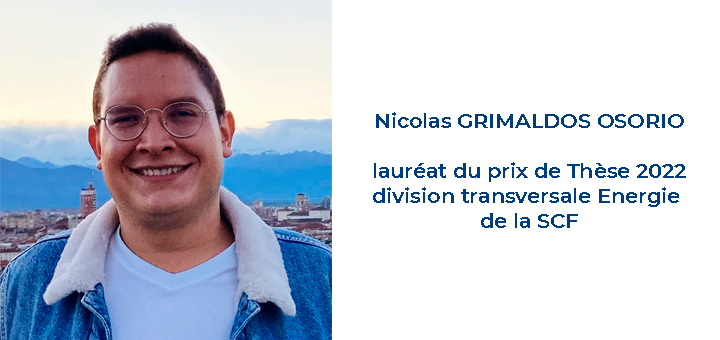 The transversal Energy division of the "Société Chimique de France" (SCF) awarded its thesis prize to Nicolas Grimaldos Osorio, who graduated in 2022 from the University of Lyon in joint supervision with the University of Turin.
This distinction rewards his thesis work entitled 'Towards efficient treatment and recovery of plastic waste: production of hydrogen by electrolysis'. His research has validated the proof of concept of the electrolysis of plastic materials at low temperature for the production of hydrogen, as well as a better understanding of the electrochemical oxidation of polymeric macromolecules in an electrolyser.
He completed his doctoral thesis (funded by l'Ecole Urbaine de Lyon) from 2019 to 2022 at the "Institut de Recherches sur la Catalyse et l'Environnement de Lyon" (IRCELYON, Villeurbanne), under the co-direction of Philippe Vernoux and Angel Caravaca, and in joint supervision with the University of Torino (Italy), supervised by Monica Passananti and Fabrizio Sordello. Since January 2023, he has been a research and innovation engineer for the development of fuel cells in a private company in Lyon, France.