New catalysts to recover CO2 thanks to the sun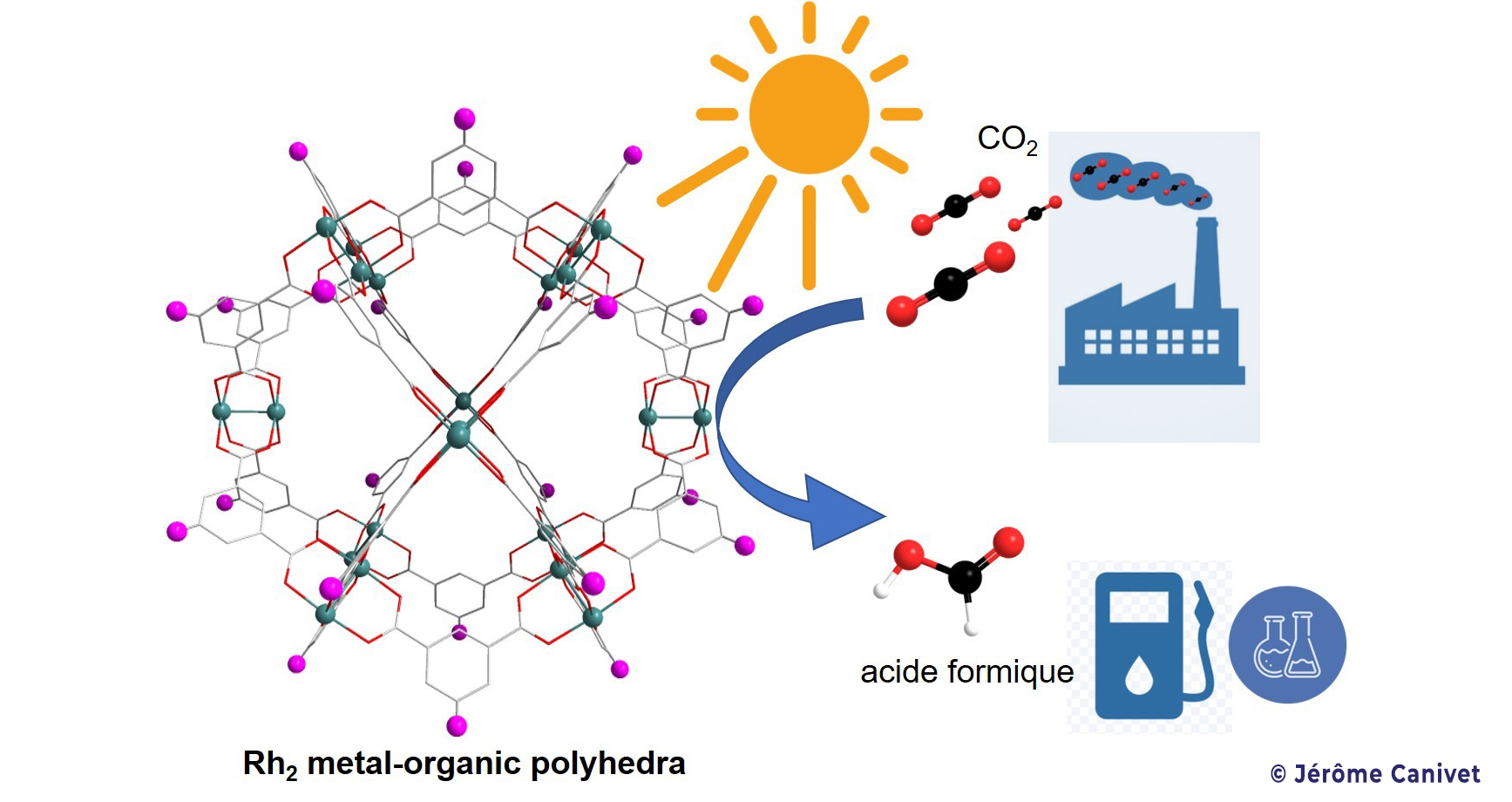 The discovery of new catalysts in the field of energy and green chemistry is a major challenge for a more sustainable society.
Scientists from the ING team (Catalyst and Process Engineering) at IRCELYON in collaboration with a team from ICEMS in Kyoto, researchers from the Laboratoire de chimie de la matière condensée in Paris and the University of Regensburg have implemented new molecular entities, the Metal-Organic Polyhedra (MOP).
These MOPs have a polymeric form in order to effectively catalyze the transformation of carbon dioxide into formic acid by the action of visible light.
Thanks to their rational design, these new heterogeneous rhodium catalysts produce almost 3 grams of formic acid per gram of catalyst per hour, surpassing all their predecessors.
These new catalytic systems combine both the reduction of a greenhouse gas and the production of a molecule recently reported as a fuel for fuel cells.
These results, published in The Journal of the American Chemical Society, are the result of collaborative work within the international research project IRP Smolab between the CNRS and Kyoto University. The INC of the CNRS devotes an article to them entitled Le CO2, sous le soleil exactement !.
Ashta C. Ghosh, Alexandre Legrand, Rémy Rajapaksha, Gavin A. Craig, Capucine Sassoye, Gábor Balázs, David Farrusseng, Shuhei Furukawa, Jérôme Canivet & Florian M. Wisser
Rhodium-Based Metal−Organic Polyhedra Assemblies for Selective CO2 Photoreduction
J. Am. Chem. Soc. 2022 https://doi.org/10.1021/jacs.1c12631
Find the video presentation of the IRP Smolab on our Youtube channel: